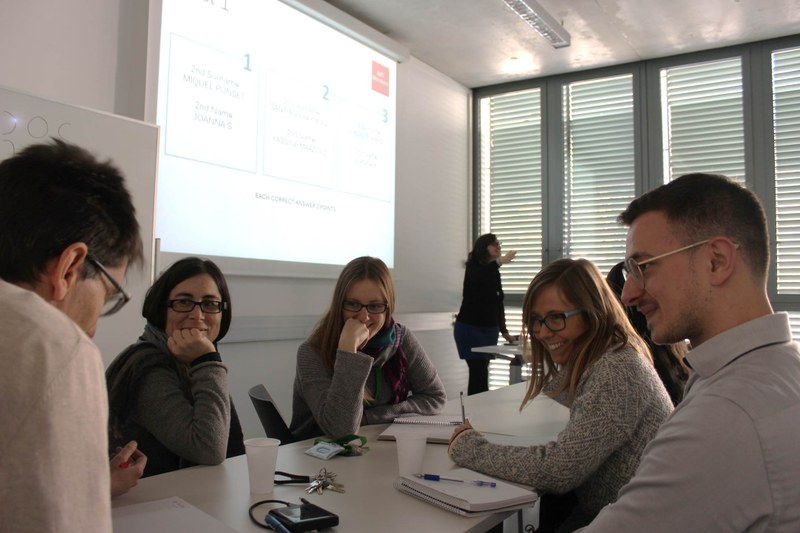 The BBT helds its Annual Internal Meeting 2018
The Biomaterials, Biomechanics and Tissue Engineering research group presents its research lines, active projects and scientific objectives, as well as its new corporate identity, during its Annual Internal Conference.
The BBT held its Annual Internal Meeting  on February, 9th. During the meeting, Prof. Maria-Pau Ginebra, Director of the Biomaterials, Biomechanics and Tissue Engineering research group, presented to the members of the group all its research lines, the scientific objectives for 2018, its scientific production and the ongoing projects.
Afterwards, Engineering Services Director, Dr. José-María Manero, presented the growing objectives for the division and the main services offered to companies and other clients.
Next, Meritxell Molmeneu, Laboratories Manager, made a brief presentation about the facilities of the BBT group on the Diagonal Besòs Campus, and laboratories management.
Finally, BBT's Project Manager, who is also in charge of the Internal and External Communications of the Group, as well as organization of events, Noelia Aparicio, presented to the group the new corporate image, focused on a new logo designed by graphic designer Abel Bueno.
After enjoying a small coffee break, the group played a game, with questions specifically designed for BBT, and skill tests, in order to encourage the interaction between the different members of the research group, and also having a good time.