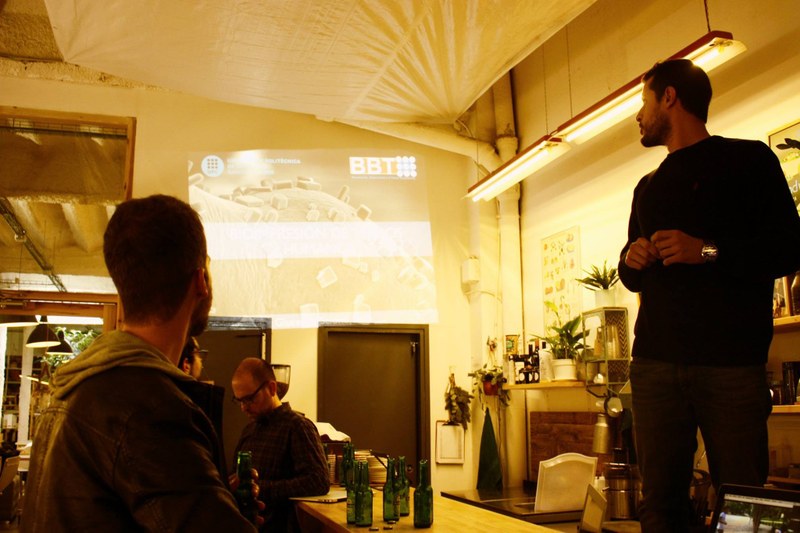 Dr Giuseppe Scionti and 3D bioprinting at the FabMeetup #11: Innovative Bio Technologies with CREB-UPC
Dr Giuseppe Scionti, a BBT member, presented our 3D bioprinting research at the FabMeetup, dedicated to Innovative Bio Technologies at CREB-UPC.
FabCafe Barcelona and CREB UPC gathered on February 15th to present five innovative projects related to the Bio Technologies. The main objective of the meeting, and of the creation of the Barcelona first BioTech community (together with MOB), was to fusionate engineering and creative fields to come up with the best ideas to empower the human body.
Dr. Giuseppe Scionti, a Juan de la Cierva Fellow at BBT, presented in 5 minutes the present, the future and the possibilities of our research in 3D bioprinting with biocompatible and regenerative inks.
FabMeetups are free and casual events organised by FabCafe, a coffee shop where people can enjoy making things in an exciting environment furnished with a variety of digital fabrication tools, with the objective to encourage creations and innovation from Barcelona and to help the launching of new start-ups, products or concepts.
The audience was invited to ask questions and share feedbacks, in a very successful conversation between all the creative and entrepeneur attendants. At the end of all presentations, everyone voted its favourite project and had a beer (or two).